The 9th of January 2019 was the anniversary of our engagement day in 1965. Time flies! That day in 1965 we went to a fine restaurant specialised on food from the high mountains in Sweden (Lapland – Sápmi). Alas, the restaurant is no more, but Margareta put on her Chef's hat and made a similar dinner for two in our own kitchen. As we are lucky to get fine products locally within the Stockholm area it was easy to make a 5* meal. Entrecôte of reindeer, mushrooms (Boletus edulis) in wine sauce Bordelaise, Rösti, and broccoli bouquettes (al dente ;-).
Thanks to our local shops and the Farmer's Markets we are able to put a silver lining to our daily lives, and a golden lining on occasions like this. See below for the addresses if you are in the Stockholm area!  

 webpages linked to them, too.
Farmer's Markets > Every Saturday in May, and in August – October, in a beautiful parc (Tessinparken) in Stockholm. Farmers and other small producers, some from far away 250 kilometers from the market place, will be there on these Saturdays, come rain, sunshine, snow or a very windy day. Heroes! Honey, eggs, cheeses, vegetables, berries, jams, dried and fresh mushrooms, fruits, fresh fish, flowers, etc, etc  See pictures below!
Renprodukter > Best place to buy products from Sapmi. Their shop is small but they keep both edible things and Sápmi Artisan work. Best place to find a gift or a souvenir! We help them with their > website.
Since we found a Picard shop in Sollentuna Centrum, we can bunker up with deepfrozen vegetables in bags, so handy to have when time is short, or the vegetables are not in season here, or hard to find. It is a French brand, they only have deepfrozen ingredients for your own cooking, or if you are in a hurry, dishes from many countries. It is nice to get a Quiche Lorraine a wintry day, warm and golden from your own oven in 25 minutes.
Winefinder, a nice way to get good wines, to add to the wines from the Systembolaget's assortment, that is the one and only real shop for alcoholic beverages in Sweden. We have vineyards in south Sweden, but we cannot buy directly from them, only via Systembolaget.  Sounds crazy but so is the law! Click on the pictures below to enlarge.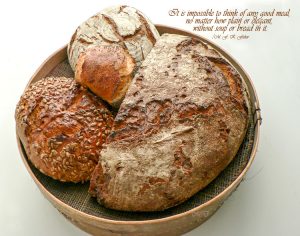 "All sorrows are less with bread" / Miguel Cervantes.
"If you have extraordinary bread and extraordinary butter it is hard to beat bread and butter" Jaques Pepin.
As we like both bread and butter we are happy that we nowadays can find many varieties of bread, baked with flour from Organic farms, baked with or without sourdough by talented bakers from Sweden or other countries with bread tradition. French, German, Italian, Finnish, Scandinavian, Baltic, it is easy to find your favourites in almost any little shop or supermarket now.  Much have happened just in the last 10 years! Horray, for our new Swedes!
Der Berliner Bäcker > Nybrogatan 87 in Stockholm, follows the German sourdough tradition, and during market days in Tessinparken you can buy his breads, and also sweet delicasies, there. Do not be surprised if there are many in line before you! As we fell in love with such breads during our stay in Stuttgart 1967-68, we are happy to help him with his website and PR.
Next news from us will be the installation of solar panels on our roof! We have a roof to the south and no trees can shadow them. An experiment we hope will be a great success for environment reasons, and ourselves (the household purse).