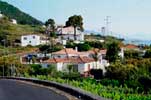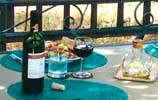 Chianti
– not just wine in a funny bottle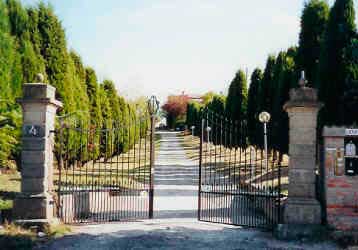 We wanted to celebrate a birthday in Tuscany and bought a very good book by Martha Högström about "Toscana", about that part of Italy with beautiful illustrations in ink. We put it in our luggage and used it very often! Also the guide book about Tuscany from "Lonely planet" is just as useful, with maps of the towns and lots of information.
On searching the net we found an apartment in a small house with only two apartments and up to 6 beds. Nice, not crowded and in the countryside in the middle of Chianti, vineyards and olive trees surrounded the house.
A local travel agency helped with the air tickets and renting a car, but we booked our stay ourselves by e-mail, in Emilia Romagna at B&B Cavaione just south of Bologna, only 10 kilometres from that beautiful old town. A grand entrance, see above! Breakfast in the Mediterranean way is mostly coffee with milk and a piece of sponge cake, so we had very good, and long, lunches in town. One restaurant we had spotted on the Internet and it was a good one! Il Postiglione! Our host Davide told us about La Felina. If you are in Bologna … ! see links below!
The rented car waited at the Bologna Airport and after our stay at Cavaione we drove to Poggetto not far from Castellina-in-Chianti. The map of Tuscany was very useful, already in Bologna. Both the big and the small roads are a bit confusing around that town! It is very easy to take the wrong turn, and hard to get back on track.
The apartment at Poggetto was just as the pictures on the net! We arrived in the middle of the "Vendemmia" and learned how three persons make 5000 litres of grape juice in three days, with the help of a small electric machine, which separated the grapes from the stems, and a thick pipe to the huge steel tanks for the flow of juice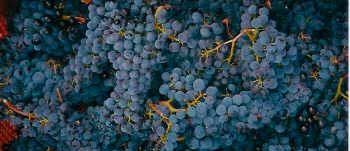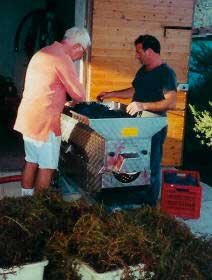 To stay like this, in the middle of Chianti, is most handy, you can do sightseeing tours during the days, in all directions. You can visit old towns and wine castles, you'll find a beautiful chamber in the Cathedral of Siena, with lovely old illuminated manuscripts and you´ll have good lunches at taverns. If you feel for a strong black espresso, just drop in at the nearest bar and you´ll get one within a minute.Then you are ready to drive home.
Shops that looks like a hole-in-the-wall contains treasures for an artist. Paper, pens, inks … we do recommend Il Papiro. Decorated paper with beautiful Calligraphy and boxes lined with such paper, beautiful bookmarks with motives from Siena, and also with drawings by Leonardo da Vinci, e.g. his bicycle. Nice souvenirs, not heavy.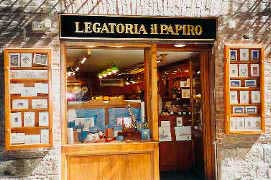 It is interesting and very delightful to spend a vacation like this! To stay outside the towns and have breakfast of your own choice bought in a local store, big or small, and have a good map in the car. Don´t forget to bring a camera, and a bag extra for edible souvenirs e.g.from La Bottega del Pane di Nanni south of Siena, a place with very yummy cookies! This was a vacation in living memory a long time. (We used two cameras, and both the happy travelers were caught on photos) 
Update in July 2015 >NOTE! Still worth a visit! Such delicious biscuites are worth a detour!
More about Italy and Tuscany and other places
If you like Mystery Books, have a look at this link and you'll find books to read on location place, and perhaps find ideas for sightseeing or nice things to try in a taverna somewhere. Mysteries Set in Italy with some of our favourite police officers (Brunetti, Montalbano)
Some good links about Tuscany:
Tema Toscana, if you know Swedish. Or look in book shops at home for guidebooks and maps. Many writers have described their troubles, sometimes with tongue in cheek, when buying a house, and rebuilding it. Nice to read at home or – there.
Agriturismo Italy: Stay on a farm, big or small.
Agriturismo.net: Bo på stor eller liten lantgård i Italien – Here is the site where we found: Poggetto near Castellina-in-Chianti.
The hosts speaks several languages, and many people do, but if you know some Italian words it is appreciated! The house is situated on top of a hillock in a valley, with a view even from the pool! Vineyards all around, and olive trees. Sometimes in fine weather we could see Monte Amiata far away.
More links from Bologna
Ristorante La Felina – the gourmets of Bologna know where the best food is!
Taverna del Postiglione –print these pages and show them to your waitress, smiles everywhere and you'll be a dear visitor most welcome back any time.
Mille Voci Mille Suoni – the Marconi- and radio museum in Bologna is possible to visit virtually, too. Have a nice time listening to Past Times music at their YouTube Channel!
Italian specialties:
If you cannot find them in your home town buy the cheese you met in Italy on-line from
Emilia Food Love, it is easy and with secure payment. The package arrives at your doorstep directly from Emilia Romagna after a few days. What a fine service!