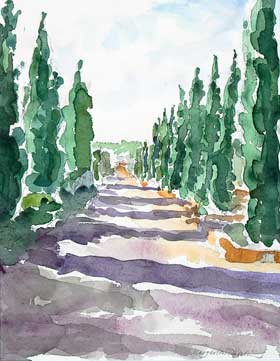 Here is a subdivision of our site presenting Margareta and her work as an artist, reports from the Sollentuna Art Shows in which she has participated, and also some general material about art and artists. It has its own set of navigation buttons above.
About me and my work
After my studies at the Art School "Konstfack" in Stockholm, I have worked as an illustrator of books and designer of graphic art, e.g. postcards, stationery and diplomas, also designing exhibitions with different themes in libraries.
My production also includes a great number of aquarelles (water-colour paintings) especially from the south of Sweden and from travels in Tuscany and Spain.
Movement in the art – I like to try to catch the speed of the cyclists in Tour de France or La Vuelta España.
I also work as a calligrapher. Sometimes I add some calligraphy in the aquarelles, a short poem or quotation to give the motive an extra poetic touch.
Margareta Dahlin
Sollentuna – painter, calligrapher
Born 1941 in Umeå (Vännäs) in north Sweden, now living in Sollentuna, near Stockholm.
Schools
Nyckelviksskolan at Lidingö 1962 – 1963 (The Art School of Carl Malmsten) 
Swedish University College of Arts, Crafts and Design "Konstfack" (Master of Drawing, and decorative painting). 
Pupil at Calligraphy Classes for Kerstin Anckers ( Professor of Calligraphy, designer of many diplomas for the Nobel Price in Litterature)
Scholarships
Scholarship of Art in Sollentuna 1980 
Scholarship of the Swedish Writers´s Foundation 1980
Solo exhibitions
Gallerie Pictorama, Södertälje 2003 
Sollentuna Art Show 2004 – 2016
Sollentuna, Edsviks konsthall, Galleri Stallet 2014
Group exhibitions
Participation in many exhibitions – Falkenberg, Stockholm, Sollentuna, Södertälje, Vännäs, 1977 – 2015
Representations
at the community of Sollentuna and in many private collections
Member of following societies
Society of Artists of Sweden (Svenska Konstnärer) 
Society of Designers of Sweden (Svenska Tecknare)
Konstkvarteret.se 
Latest events
MC Collection during KonstrOndan, Sollentuna in April 2017
Sollentuna, Edsviks konsthall, Galleri Stallet 2014 (with Christina Hagberg)
Stockholm, Old town, at Galleri Hagström in October (Jubilee Art Show. 5 old schoolfriends from the Art school; we met for the first time in 1964)
All paintings, © Margareta Dahlin