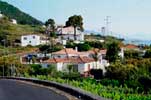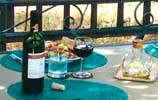 "May you have warm words on a cold evening,
a full moon on a dark night,
and the road downhill all the way to your door."
An Irish Toast! Sláinte! (Skål!)
We do recommend B&B in Ireland! The brochure "Stay on a farm"(AA) from the Irish Tourist Board is a good start in planning a journey, and by visiting their home site you will also get lots of ideas. We did so and travelled at home first – in the computer. It is fun and you will learn a lot about the landscape and the country. The B&B hosts will later kindly help you with tip-offs to nice things and places in their county.
If you travel by car it is very good to have a detailed roadmap, because you'll need it if you like to drive in the countryside. In Ireland you must not hurry or drive fast, especially if you are from the Nordic countries and not used to huge and thick hedges of Fuchsia in bloom (here and there mingling with Elder also in bloom), and suddenly some sheep occupy the road or a herd of cows cross the lane, eager to be home in time for the evening.
The islanders drive pretty fast themselves, or they use a bike, do keep your eyes open in the road bends, please! We learned that fast enough and we did not dare to pass an old man merrily swishing downhill on his vintage bike in front of our car, because the very narrow and winding road was hidden by hedges, and our map said that it was a sharp bend just in front of a house on the foot of the hill… Obviously he was used to that road!
Huge juggernauts with fresh cut timber emerge suddenly on the lanes of Limerick and Cork. We did not know that Ireland has such big forests with such sky high pines! (We felt like back home.)
When it is "time for a little something" in the afternoon, look for Tea Rooms, often in houses which could illustrate a fairy tale and if your nose tells you: "Nice cooking" – have a good Tea Time! And maybe they have Seedcake!
The small towns with colourful houses and interesting shops are nice places to stay for a cup of tea or just for a rest. The shops give you the opportunity to find things you never find anywhere else, bakeries and delicatessen with specialties from that town, or shops with celtic art work – on paper as well as of wool. Really useful souvenirs! Handicraft to be used!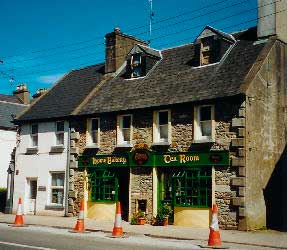 Ireland has lots of museums showing different and unusual things! The Celtic Park and Gardens – Kilcornan (an open air museum) is beautiful, on back-roads there are tiny museums (old cars and other things), and old or modern distilleries of Irish whiskey (guided tours with a dram included in the entry fee).
We liked the food in Ireland! And it has got its own "Jamie Oliver" now, a young cook with bright ideas! Donal Skehan!
Fresh fish and seafood, and lamb, and the breakfast … Have a "Full Irish Breakfast" and you'll feel fine until late afternoon!
During Pär's time as a singer in choirs, one of them made a concert tour to Dublin. The other members went back home after the tour but we rented a small car and had a lovely time on this beautiful island.
We have a lot more tip-offs and pictures for you if you like to jump into our green Irish box. (From our old homepage.)