It seems that one of my specialities is to find slightly odd places to show my paintings! A former dovecote, a foyer to a conference hotel,  our own garage, in the cafe to a museum for old and new motorbikes, in the waiting room at my dentist's, on the 3rd floor downstairs of a mini gallery in the Old town of Stockholm, and lately in the even tinier old bakehouse on a farm in the county Uppland.
It all began in the dovecote Duvslaget at Edsberg manor in 2000 and my first participation in the annual Art Shows in April in Sollentuna. It was a very tiny place and more windows than walls.
Art show in 2003 in the foyer at the hotel, with high stone walls and very airy. Not much wall space there either, but brighter with wider windows.
In 2004 we made a showroom of our garage, white-washed the walls and called it "The Garage Gallery". It is more homely and also easier to arrange, so we have repeated that manoeuvre several times.
One Spring the Museum MC Collection invited me to show my cycling motives in their café during the annual Art show. Old motorbikes and my motives from the famous cycling tours mixed well.
The waiting room at my dentist's! One patient almost forgot her toothache and bought a painting!
The latest unusual showroom was in the bakehouse on an old farm where Sussi has her famous bakery. Address Hjälsta Bälsunda, and it was during the annual festival and event "Food & People" in the county Uppland. Visitors can see the animals and buy the farmer's products, creameries sell their cheeses, and to Sussi's, they came to buy the bread made of local ingredients.
My agrarian motives fit in well and the visitors often bought their loaves of bread first and came with fresh and warm bags into the "gallery". Soon the old bakehouse got its aroma back and added to the feel-well feeling.
The sunny day and the light in the room made a vision of visiting an old relative. Now and then the cut-glass chandelier tinkled, we only missed a sleeping cat in the sunstroke on the rag mat.
The old house seemed to like visitors, and the floorboards creaked.
The countryside at its best! Grannie Margareta was happy!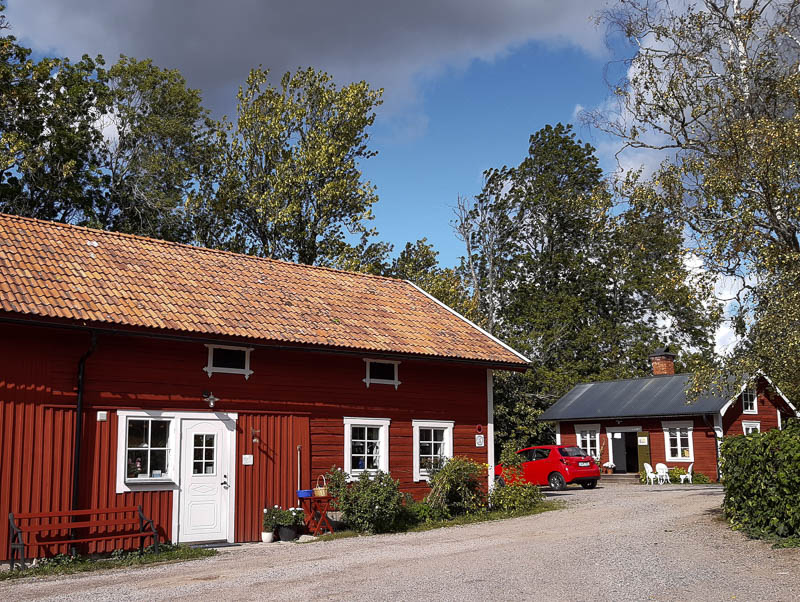 You will find Sussi's bakery shop and café in the main building behind the white door, and the old bakehouse in the background, behind our car.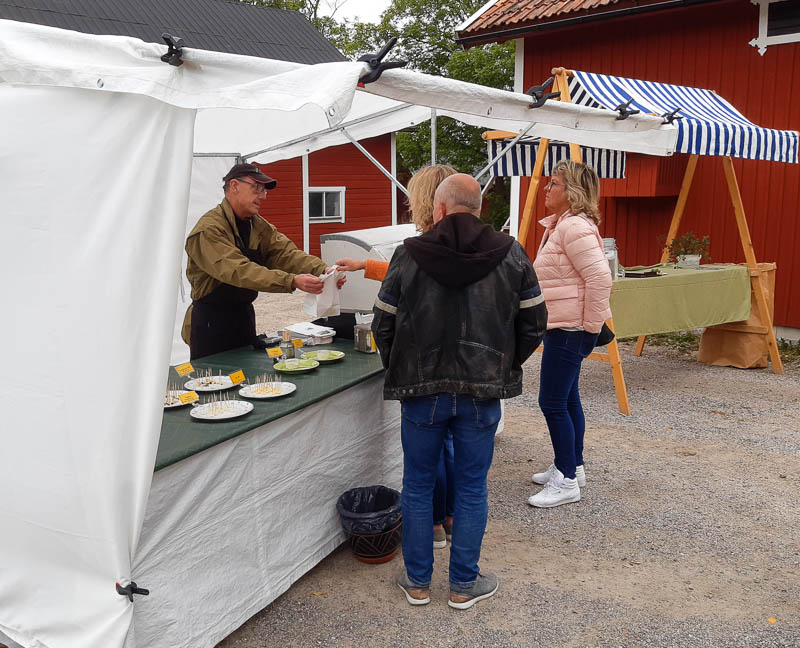 Vallgarn creamery sold their cheeses and other dairy products from their farm here during this event! Bread and cheese – that is an excellent combination.