What is Crowd farming? It is supporting a small farmer in the EU living "south of the border" that is Skåne / Scania!
Swedish farmers cannot grow citrus fruits, olives, rice, almonds, or collect salt from the sea.
Interested? Do like this:
Choose a farmer from the Crowd farming organisation.

Adopt a tree or something else the farmer offers.

Let the farmer and nature do the job.

Order, and get the harvest to your door.
This year (2019) we have adopted trees from nine farmers and received fresh, organic, delicious products directly to our doorstep. It can hardly be better!
Then we combine these products with food from the local producers and farmers.
Below is some information from each farmer, and we hope it may inspire you to participate in this European Union harvest festival. You will be part of a "green family" in several countries!
I (Pär) have made an album with more pictures from our Crowd farming. It loads somewhat slowly, so be patient!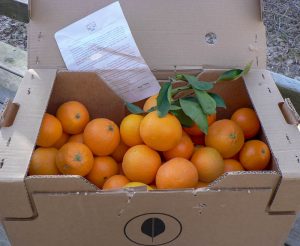 ​
A box of Spanish sunshine arrived February 20, a windy and chilly day, from Sergio Muños, El Jardin del Gordo, Villar del Arzobispo, Valencia. Our first delivery from Crowd farming and adopted tree, 'Fina Apelsina'! The ordinary sun did not warm us as much as the beautiful sunny coloured oranges in the box, with the fruits so juicy and tasty, full of flavours. We can recommend a box or two if you want to taste oranges directly from a farm, organic to 100% and make marmalade, and you can use the whole fruits! My nose told me that this is THE real thing, and the costs are not high compared with the price of other Organic oranges picked too early and not given a chance to be sweetened by the sun.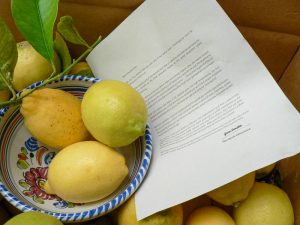 ​
Postnord delivered a box with lemons May 27 from Huerta del Almanzora, Almeria, Spanien. We compared the prices of organic fruits at our local shops, where the quality, alas, is not the very best, to the farmer's prices, and his box was lower in cost per kilo, postage included, and directly to our doorstep. What superb quality, no mould, no soft and rotten spots in the peel after a couple of days, and cheaper than the organic lemons in our shops!
 We can use the peel for many purposes! For example to put batches of juice and peel stripes in the freezer, to use later for the apple jam in September. The apple preserves of 2019 were extra delicious thanks to the lemons! The name of our adopted tree? It is called 'Lemonardo'(!).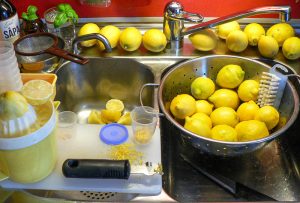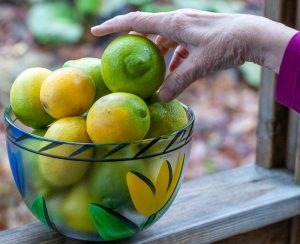 ​
More lemons! Margareta in particular likes to drink lemon juice, diluted with water. You can use a couple of frozen strawberries as ice cubes, and they give some sweetness after a couple of minutes, and the lemonade turns slightly pink.
These lemons come from El Carrascal, Murcia, Spain, and our tree 'Lemonarda'(!). It is a late variety of this fruit, so lovely to receive in late Autumn! Here is the letter included in the box, click to enlarge to a readable size.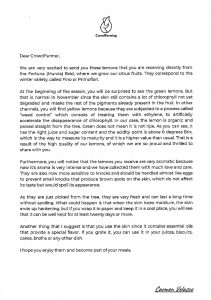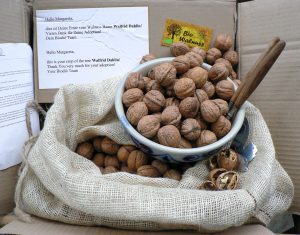 ​
Our adopted walnut tree from "Bio Dio" in Osli, Hungary, Walfrid, sent the promised box of fresh walnuts, and the heavy box arrived November 27.
It was a sweet "rattling" sound when Margareta took off the string and put her hands in the sack to check her idea of a photo of nuts placed in a bowl from our time in Stuttgart. It is a salt glaze stoneware item from Westerwald. In the box was a kind letter from the farmers, and instruction of how to store the nuts to keep the lovely aroma and taste for several months. Unshelled nuts keep their freshness longer. We like "Walfrid"!
Click the letter to enlarge to a readble size.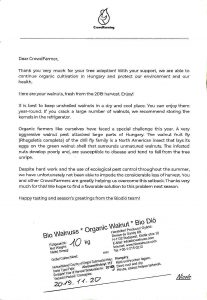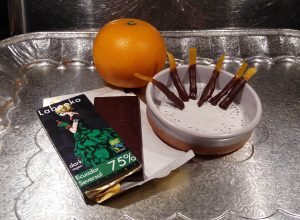 ​
Our tree 'Julia Apelsina' and the farmer Joaquín Gine on the farm Hort de Bitem y Xerta close to Tarragona in Spain sent a box with beautiful and delicious oranges. It is another variety of oranges, and harvested less than a week before delivery! The farm is certified and organic and the best Christmas oranges we have ever got.
 Margareta could not resist the temptation to make some samples of candied orange peels covered with dark chocolate, the oldfashioned Christmas candy. Recipes galore on the Internet and YouTube if you want to try for yourself! I used this, a simple recipe by Chef Jacques Pépin. Easy to follow, and it turned out very good!
Click the letter to enlarge to a readable size!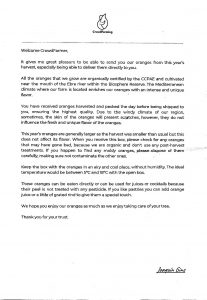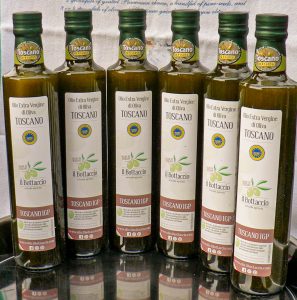 ​
A box from Italy arrived on Friday the 13th of December, just when the real sun decided to peep through between the heavy grey clouds of early Winter. Newly pressed Novello virgin olive oil. It was sent less than a week earlier from Il Bottaccio and its farmer Luca Guglielmi and our adopted 'family tree' in Tuscany, in Campiglia Marittima. Bottled sunshine!
In September 2001 we spent two weeks in Tuscany and stayed at a farm not so far from Il Bottaccio. That farm, Poggetto, is not far from Castellina-in-Chianti, and it has olive trees and wines! 
So, it was a lucky day even if it soon turned grey and rainy again.
Here is the letter included in the box, click to enlarge to a readable size.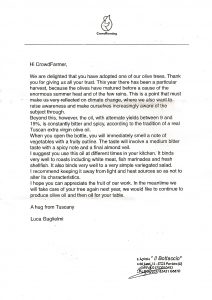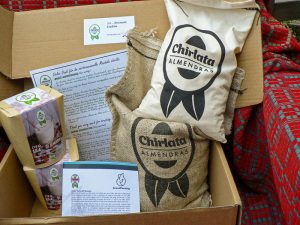 ​
On December 16, the box with a most lovely content arrived from Almendras Chirlata, Granada, Spain. Our very first adopted tree, 'Amanda'.
Sacks with almonds, peeled and unpeeled, and almond flour for making almond milk, for instance. Delicious! Slightly chewy, as fresh almonds should be, and the flavour is rich. But, as always, you can find a bitter almond among the sweet ones!
I will keep them in the freezer, and they will taste like fresh ones even after a long time. They will be fine even after some years, as deep-frozen in air-tight boxes.
Click on the letter to enlarge to a readable size!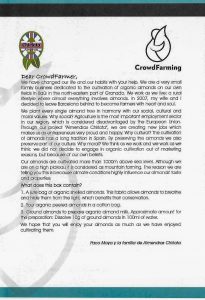 ​
The last delivery from our Crowd farming support of the year arrived with 3 Litres of French virgin olive oil in a bag-in-box, and olive preserves from Ferme des Grétières, Beauvoisin in southern France, not far from Nîmes. The 'Family tree PoM' sent its best products! Now we can compare olive oils from France and Italy, and include the Swedish-Italian brand Zeta's Novello which we can find in our local shops sometimes, but, always, we have to ask for it in November! 
Now we have got deliveries from eight of the nine adopted trees, and the last one will send bottles of Virgin Oil in June 2020, from our olive tree 'Oliver' in Cadenet in Sud-Luberon near Mont Ventoux in Provence. A popular place for stages in Tour de France in the Summer!
Click on the letter to enlarge to a readable size!